Find product care information, the nearest Krea store, our vast material library, answers to your questions. Register with us to get extended services for your Krea product.
All of our products are carefully crafted for long-lasting beauty and life. With proper care and maintenance, your furnishings can look as good as they did the day you received them, for years to come. Here are a few easy tips to get you started.
Wood finishes
Wood is a natural material, which can be affected by changing humidity, direct sunlight and normal wear and tear. Expand your furniture's lifetime by following these guidelines and see our care instructions. Also It is important to understand its unique properties; which should not be mistaken for flaws: 
UNDERSTANDING WOOD 
Natural Material - Wood is a natural material with variations of color shade, configuration, streaks, and grain structure. Just as trees in the forest are not the same, each individual piece of KREA furniture has characteristics markings that will differ from website photo and showroom samples. 
Variation in colour, shading and grain between different products and within the same product can occur; this is a normal feature of all natural wood furniture. Each piece will have a slightly different grain pattern. 
Knots: Knots are a natural property of all real wood furniture; they do not affect performance, and add interest to each piece rather than looking like a laminate. 
Medullary Rays: These markings are created where wood is cut across the grain producing interesting features such as growth rings and flecks. Each ring denotes the age of the tree in terms of number of years.
Quality Control: Quality control allows blemishes, knots and less than perfect color in places not exposed to view after assembly. These do not affect the integrity or beauty of the finished piece of furniture. There also may be variations in the color and darkening of individual pieces of wood. Our craftsmen make every effort to match grain and color within each piece of furniture, however, we cannot guarantee they will match perfectly as they age.
Humidity The tendency of wood is to move with changes of heat and humidity. The pores breathe and try to take on the humidity of the surrounding air. This means that wood will dry in and contract in winter. Conversely, it will take on moisture and swell in the summer months. Our craftsmen have designed the furniture to allow for these seasonal changes – holding which will cause cacks at unexpected places. 
These natural changes in humidity and movement can be especially prevalent in large panels, such as table tops, and even more so near the end grain of the wood, since those are the pore openings through which the moisture moves. On a solidwood dining table  top, for example, the ends of the panels will expand more than the center in the summer and contract more in the winter. This results in minor separations between the leaves of the table as the seasons change. This is not a defect—it is characteristic of solid wood furniture. "Fixing" the problem one season by straightening the edges will only result in a worse problem during the following season. Please understand the limitation of wood and enjoy the process as it breathes along with you. 
Sun bleaching will occur when wood furniture is exposed to sunlight. This will cause darker finishes to lighten and sometimes cause lighter finishes to darken. For this reason, try to avoid placing furniture in direct sunlight and rearrange accessories from time to time to prevent spot bleaching. Some bleaching will occur under both incandescent and fluorescent lighting. Arrange your furniture so that it does not sit near heat registers, air-conditionings units or radiators. It is important to keep the home or office in which your furniture is placed properly humidified. Lack of humidity, usually in the winter months or in dry climates, can cause certain veneers to crack or check, and joint to work. 
Daily Maintenance:
All your wooden from KREA furniture has a very high quality protective Polyurethene  finish that most likely will not require any care other than dusting Remember, but even the finest furniture will deteriorate with neglect. When you put the fine furniture into your home or office, give it the care it deserves to preserve the life of the piece for generations to enjoy. 
•     Dust wooden furniture regularly with a damp, clean soft cotton or microfiber cloth. 
Use gentle back and forth motion across the surface.
No need to scrub, just finish by using a dry cloth to buff the wooden surface.
If your wood furniture has any spots with sticky residue, combine a few drops of mild detergent or dish soap with a cup of water and gently wipe that part of the furniture.
Large pools of water droplet shouldn't get formed while cleaning.
Harsh chemicals should not be used to clean wooden furniture. 
General Maintenance:
Use minimal water to clean wooden items. Water can stain finishes and also cause swelling and warping of the wood. 
Always use coasters underneath hot objects to keep from getting white rings or spots in the finish.
When placing table lamps on any wooden surface, use a felt or leather mat to protect your furniture from scratches. Alternatively, a table runner can be used.
Avoid placing your wood furniture near heaters and air conditioning units to prevent over-drying or exposure to excessive moisture. 
Avoid using polish remover, alcohol or abrasive solutions on your furniture. It may damage the finish.
For any cleaning product, test a tiny, out-of-sight section of the furniture to make sure the finish doesn't get removed. 
Keep sharp or pointed items away from the furniture to avoid scratches.
Keep out of direct sunlight as ultraviolet rays can damage the finish and possibly bleach the wood.
Do not drag wooden furniture on the floor to avoid scratches as well as damage to the furniture legs.
All our polish is high quality PU and wil last for min 5 years. It is recommended to get furniture polished by professionals when needed. You may call our customer care for a Video guidance to repolsih your furniture.
Recommended Products to Maintain Wooden Furniture:
SOFTSPUN Microfiber Cloth (https://www.amazon.in/SOFTSPUN-Microfiber-Cleaning-Detailing-Polishing/dp/B077BCQ8B9/ref=sr_1_1_sspa?crid=6PT3Z6C5VHTZ&dchild=1&keywords=softspun+microfiber+cloth&qid=1616046738&sprefix=softspun%2Caps%2C323&sr=8-1-spons&psc=1&spLa=ZW5jcnlwdGVkUXVhbGlmaWVyPUEyM1NSOFRVS1JMNzFXJmVuY3J5cHRlZElkPUEwMjE0OTM3M1E4U1BKNVYxV1c2VyZlbmNyeXB0ZWRBZElkPUEwNzE2Mzg5M0tHVDdSMlFGWTNIWiZ3aWRnZXROYW1lPXNwX2F0ZiZhY3Rpb249Y2xpY2tSZWRpcmVjdCZkb05vdExvZ0NsaWNrPXRydWU=)
Clecide Furniture Cleaner (https://www.amazon.in/Clecide-Furniture-Cleaner-500-Purple/dp/B07F75YXHM/ref=sr_1_1_sspa?dchild=1&keywords=furniture+cleaner&qid=1616048864&sr=8-1-spons&psc=1&spLa=ZW5jcnlwdGVkUXVhbGlmaWVyPUEzTVRYTzVQQlRJSzlCJmVuY3J5cHRlZElkPUEwNTY4MTgzMVUwVTVPNk5USkVSSyZlbmNyeXB0ZWRBZElkPUEwOTY1NDI1NjhZUFc3OU5IWEswJndpZGdldE5hbWU9c3BfYXRmJmFjdGlvbj1jbGlja1JlZGlyZWN0JmRvTm90TG9nQ2xpY2s9dHJ1ZQ==)

Marble
Krea marble is porous and will stain if left unprotected. Marble can be cleaned with a mild detergent and warm water, rinsed with clean water and wiped with a clean, soft cloth to assure no residue remains. If this is unsuccessful, repeat with white vinegar.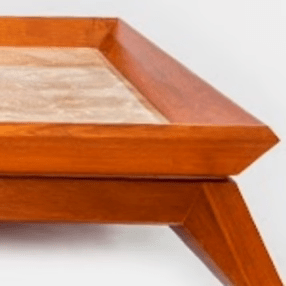 Leather & suede
Leather surfaces on Krea Furniture should be dusted regularly with a dry or slightly damp, soft cloth.  Leather desk and tabletops have a lacquer coating, therefore they can be lightly waxed. Suede surfaces should only be cleaned with a dry, stiff brush. Exposure to liquid spills should be avoided since suede cannot be washed or cleaned like leather.
Upholstery fabric
All upholstery fabrics should be dusted on regular basis with a vacuum cleaner. Down-filled cushions should be brushed rather than vacuumed. If possible, cushions should be reversed frequently. When complete overall cleaning is required, it is recommended that only a professional cleaner do it.